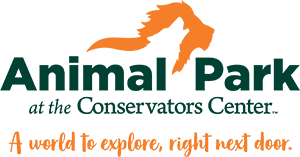 Furry Weekend Atlanta is proud to continue supporting Animal Park at the Conservators Center as our charity. The Park, founded in 1999 by Douglas Evans and Mindy Stinner, is housed in Burlington, North Carolina, roughly midway between Greensboro and Durham.
The Park reconnects people with wildlife by introducing visitors to rare, threatened, and endangered species—up close and personal. A visitor can meet the animals on guided tours—which allow incredible views from as close as 5 feet away—and learn about the animals' personalities, the species they represent, and how they came to live at the conservancy.
The Animal Park at the Conservators Center is a wildlife park that operates on the belief that one protects what one knows. Operating on this prevailing philosophy, Park staff and volunteers find that guests are more likely to become invested in these species after meeting them while learning about their inherent value. Thus the Park's animal residents serve as ambassadors for their wild counterparts. Looking a tiger in the eye, hearing lions call to one another, howling with wolves, and watching a binturong somersault for the first time are experiences that forever change the lives of everyone the conservancy touches.
Please be sure to stop by and meet the Animal Park at the Conservators Center representatives at Furry Weekend Atlanta in the dedicated Charity Room. If you have registered to attend FWA, you have already supported the Park, since a portion of your registration fee is donated directly to them. If you'd like to do more to help support the Animal Park at the Conservators Center, you can make direct contributions to them while at FWA. You can also donate items to or buy items at our Charity Auction, where all of the proceeds go directly to benefit the Park. You can also participate in the infamous FWA Poker Tournament, where the final prize is split between the winner of the event and the charity.
For further information, please visit the Animal Park at the Conservators Center's website at animalparknc.org. You can also follow them on Facebook at https://www.facebook.com/ConservatorsCenter.