Our Hotel
2014 Online Booking is NOW AVAILABLE!
Click Here to Reserve your Room!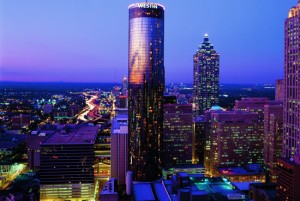 Standing 73 stories tall and towering over downtown Atlanta, the Westin Peachtree Plaza is the second tallest hotel in the Western Hemisphere and will be home to Furry Weekend Atlanta in 2014!
The hotel's address is:
Westin Peachtree Plaza
210 Peachtree St
Atlanta, GA 30303
Phone: (404) 659-1400
Fax: (404) 589-7424
IMPORTANT NOTE FOR THOSE WHO ARE DRIVING: The hotel's official address has no car access – you can't stop, drop off, etc. The car lobby is on the back side of the building. To avoid confusion, program your GPS for the following address:
184 Spring Street NW
Atlanta, GA 30303
Information on parking is available here.
If you have problems making a reservation, please be sure to get the name of the person that you spoke with and contact our Hotel Liaison at hotel@furryweekend.com.
The unique design of The Westin Peachtree Plaza, with its floor-to-ceiling windows, allows each guest a fantastic view of downtown Atlanta and surrounding attractions. The Heavenly Bed® and mauve marble Heaven Bath®, with its curved shower rod to give you more room inside and dual showerheads, are standard. Each room has been designed to include a large work desk, High Speed Internet Access, and a laptop safe.
Some of our hotel's amenities:
$139 room rate
Plenty of discounted parking
An astounding indoor/outdoor pool
A well equipped gym
Several amazing restaurants and bars in the hotel, including a rotating bar on the 73rd story!
All the same local eateries you loved about our last home. There's something for everyone including fast food, buffets, and 5-star restaurants.
Still easy to get to. The hotel is located close to the interstate, and half a block from the Peachtree Center MARTA station. While we would encourage our guests who are not driving in to take advantage of MARTA, we will also have shuttle bus information available to those coming from the airport who wish it.