Travel Information
International Guests / Arriving By Air / Arriving By Car / Arriving By Bus / Arriving By Train / Arriving By Public Transit / Parking
About Atlanta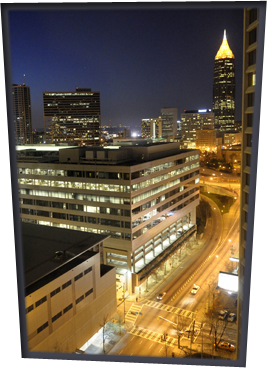 More than just an airport, Atlanta is one of America's biggest cities and was America's first great inland city. Atlanta was founded in 1837 as Terminus, a railroad junction for the Georgia and W&ARR railroads and quickly grew into the transportation hub of the American South. During the Civil War, General Sherman burned the city almost completely to the ground during his March to the Sea – the event was the cinematic backdrop for famous scenes from the 1939 Victor Fleming film Gone With The Wind.
The city was rebuilt, and would go on to play a leading role in many events to come. Atlanta is the soft-drink capital of the world: Coca-Cola was founded in Atlanta in 1892. The city was the center of the Civil Rights movement in 1960s: Martin Luther King called Atlanta his home and the city became known as "The City Too Busy To Hate." In the 1980s, Atlanta reinvented itself again as cable media's home city and the home to CNN and the Turner family of networks (including TNT and Cartoon Network). Perhaps Atlanta's finest moment came in 1996, when the city played host to the world for the 1996 Centennial Summer Olympic Games.
Many major corporations, such as UPS, Home Depot, AT&T, Delta and others are headquartered in Atlanta, and seven major Universities and dozens of smaller schools call the area home.
Climate
Atlanta's climate is mostly temperate year-round. The city enjoys four distinct seasons, but the variations are less extreme than in other parts of the United States.
It does get cold here in winter. The mercury dips below freezing–usually at night–an average of 50 days a year, and at least once a year there's a snowfall or an ice storm. (Northern transplants think it's pretty hilarious the way an inch or two of snow can paralyze the city.) But for the most part, winter days are mild, and it's often possible to enjoy the parks and even the outdoor restaurants in the middle of January or February.
Don't let the low average daytime temperatures for July, August, and early September fool you. Summers can be hot and humid, with daytime highs reaching into the 90s, although the really stifling spells usually last just a few days at a time. Annual rainfall is about 48 inches, and the wettest months are December through April, and July.
Nightlife
Nightlife in Atlanta varies from intimate bars to live music venues and nightclubs. Dress up for intimate dinners, dress showily for the Buckhead scene and dress as way out as you dare for Little Five Points. Midtown stretches from Downtown to Buckhead, and Piedmont Park hosts everything from the Gay Pride Festival to the Montreux-Atlanta International Music Festival and the Dogwood Festival. Some bars stay open until 4:00AM but tend to close much earlier on Sundays. Although the legal drinking age is 21 years, many bars may admit those who are 18 and above. Drink prices start from US$4 and vary enormously according to the establishment; draught beers are less expensive than bottled imports.
Little Five Points (west of Georgia State University) is the "Greenwich Village" of Atlanta. A small group of live music clubs and performance theatres hosts the city's cutting-edge artists and the small plaza area is a hangout for street performers and a younger crowd. There are a few festivals throughout the year, most notably the massive Halloween festival.
Buckhead, where Peachtree and Roswell roads meet, is for the young, smart and unattached, who pack the bars, especially on Friday nights. There are several clubs, a few live music venues, and tons of bars and restaurants to suit every fancy.
Note: Georgia is a blue laws state, meaning that certain counties and municipalities have laws regarding the sale of alcohol on Sundays. Most liquor stores close around 11PM on Saturday night. However, within Atlanta, bars are exempted from the Sunday sales requirement.
Public Transportation
To avoid the hassle of driving, Atlanta's MARTA public transit system provides bus and rail service covering much of the Atlanta area. Fares are $2.50 per ride, and transfers between buses and rail are free. Taxis are not readily available in Atlanta unless called.
Keep in mind that there is free daily and cheap long-term parking available at many MARTA stations! A full list of stations that have parking is available here. These prices range from $5 to $8 per day so, if you are traveling light, looking to save some money and not opposed to being a few miles away from your car, you may consider parking it and taking the train in.