Arriving By Air
International Guests / Arriving By Air / Arriving By Car / Arriving By Bus / Arriving By Train / Arriving By Public Transit / Parking
Commercial Airline Passengers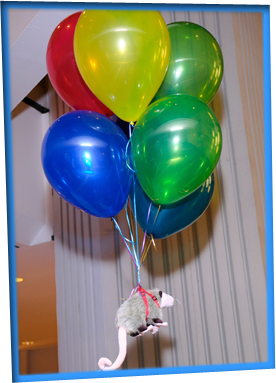 Commercial passengers will want to arrive into Hartsfield-Jackson Atlanta International Airport (IATA code ATL), which serves the Atlanta area and has the distinction of being the busiest passenger airport in the world. It is a major connecting point for several major airlines and serves 261 nonstop destinations, including 83 international destinations in 54 countries
Via MARTA:
MARTA is the absolute easiest and cheapest way to reach the convention from the airport. Trains run about every 15 minutes during the week, and about every 20 minutes on the weekend. Hours of operation are 4:45am to 1am on weekdays and 6am to 1am on weekends.
Take any MARTA northbound train (either the gold or red lines) and exit at Peachtree Center Station (N1). The hotel is a one block from the Peachtree Center station (follow the directions on the Public Transit page). Total fare should be $2.50 each way, with a one-time $1 charge if you don't already have a Breeze Card. Fares can be purchased at the automated vending machines in the Airport MARTA station. The machines accept cash and most major credit cards.
Via Shuttle Bus:
Shuttle Bus service for Furry Weekend Atlanta attendees are provided through the Marriott Marquis via The Atlanta Airport Shuttle Service (TAASS). They pick up outside the Delta Baggage Claim at Atlanta-Hartsfield (south Terminal) every 15 minutes. One way fares are $16.50 and roundtrip fares are $29.
Via Car:
Follow the signs for I-85 north out of the airport. (For arrivals in the International Terminal, instead follow the signs for I-75 north.)
Follow I-85 onto I-75/85.
Take exit 248C for Freedom Pkwy toward GA-10 E/Andrew Young International Blvd/Carter Center.
Keep left at the fork and follow the signs towards Andrew Young International Boulevard.
Turn left onto Andrew Young International Boulevard.
Turn right onto Peachtree Center Avenue (if you reach Peachtree Street, you've gone too far).
The hotel car entrance will be on your right.
Private Pilots
Private pilots will probably want to avoid Hartsfield-Jackson Atlanta International Airport due to the commercial congestion and extremely high landing fees. Instead, consider flying into one of Atlanta's outlying fields, including Fulton County Brown Field (IATA code FTY), Dekalb-Peachtree Airport (IATA code PDK) or Peachtree City's Atlanta Regional Airport – Falcon Field (IATA code FFC). Each of these airports has at least one FBO and is within a 30 minute drive of the Marriott Marquis Hotel.
The Atlanta airports can be found (obviously) on the Atlanta Sectional Chart. Be sure to pay attention to the NOTAMs, as a number of Atlanta airports (notably KPDK) have nighttime curfews.