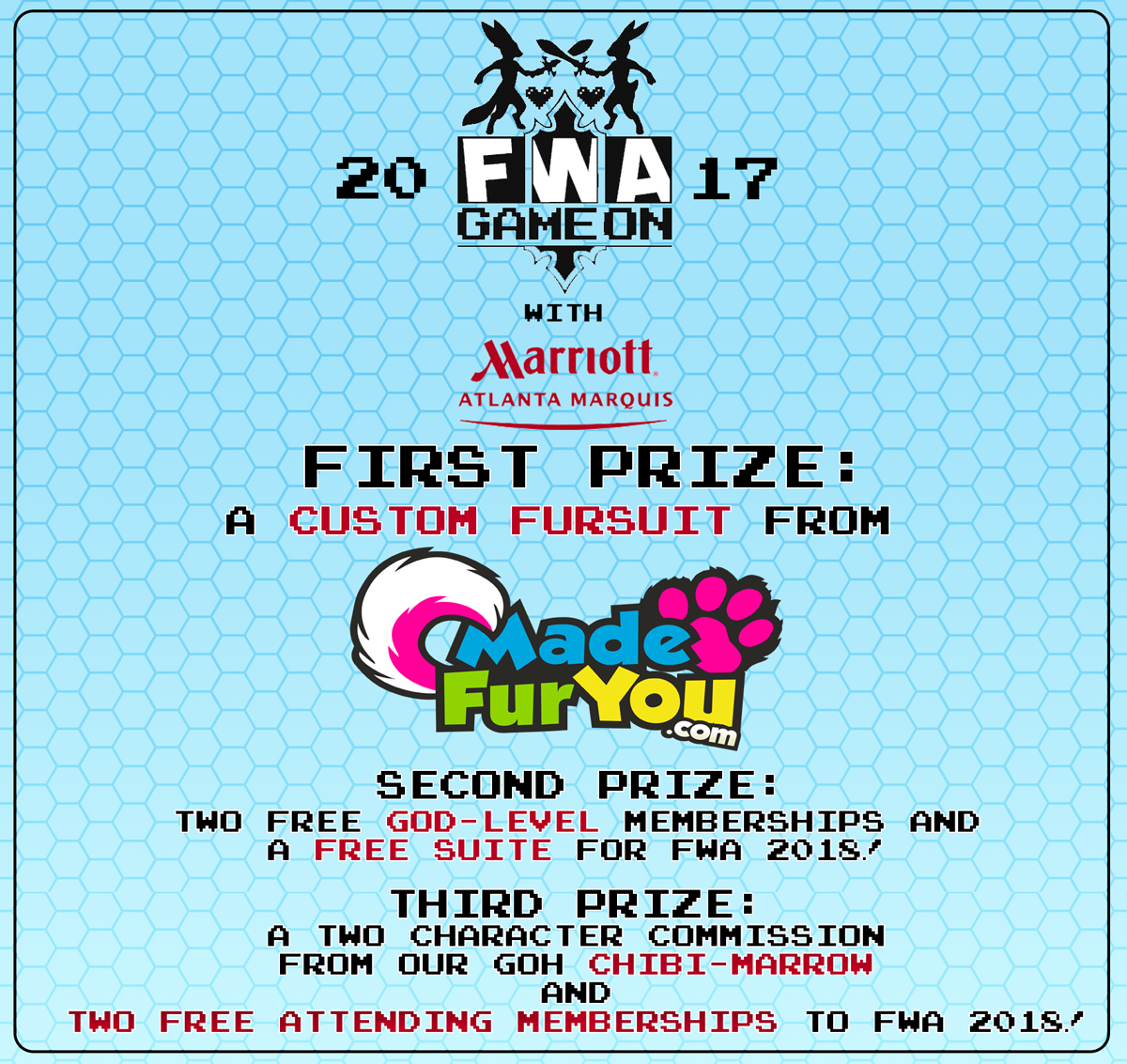 Official rules of the 2017 Furry Weekend Atlanta raffle
Eligibility: To be eligible for entry you must meet the following conditions:
Must be staying at the Marriott Marquis Atlanta, in the Furry Weekend Atlanta 2017 room block, for at least 2 nights from April 6, 2017 to April 9, 2017.
Must have your first and last name as it appears in the FWA registration system registered on the hotel room in the Marriott's reservation computer. Up to 4 people may be on the room for a Double and 3 people for King. Suites may have up to the maximum occupancy as specified by the hotel.
Must have a valid, purchased, attending level or higher membership for FWA 2017 obtained before April 9th, 2017 at 3 pm. Eastern Daylight Time. Daily memberships are not eligible.
Only convention attendees are eligible. Volunteers and dealers, who are also paid attendees, are eligible.  FWA staff, guest property employees, contractors, vendors, and FWA invited guests are not eligible.
Must be a legal, US Resident and at least 18 years of age as of April 9th 2017, the date official entry is made. This is to comply with US law, Georgia law and IRS regulations.
Agreement to Rules: By participating, you agree to be fully and unconditionally bound by these rules, and winners must meet the eligibility requirements. In addition, you agree to accept the decisions of the FWA Board of Directors and/or CEO, as final and binding.
How to Enter: Entry is made after registration and obtaining a valid membership. Membership must be purchased.  All eligible members will be entered on April 9th 2017. Winners will be announced at Closing Ceremonies on April 9, 2017.
Prizes:
1st – Grand Prize –  One (1) First place prize will be awarded a custom full fursuit from Made Fur You Inc. and a reserved slot at the front of their wait queue. Value up to $3500.
2nd – One (1) second place prize will be awarded – Free hotel suite for up to 4 nights and 2 god level memberships for FWA 2018.
3rd – One (1) third place prize will be awarded – A single art commission with up to 2 characters from the Guest of Honor and two (2) attending memberships for FWA 2018.
Conditions:  Fursuit will be shipped to the winner upon completion. Winner agrees to provide fursuit maker any references / descriptions by May 1 2017. Winner is responsible for any additional options or customizations that exceed the prize value.  Fursuit completion timeline is at the sole discretion of Made Fur You. (Fursuit Maker) and will be determined by complexity, workload and  their "best effort". FWA reserves the right to substitute an equivalent value prize due to any unforeseen circumstances. Hotel suite size and limitations to be determined by host hotel. Valid credit card required at time of check-in reservation for room incidentals and/or damages.  Commission limitations will be determined by the Guest of Honor. Prizes are not transferable. No cash or other prize substitution permitted.
Winner selection and notification: Winners will be selected in a random drawing under the supervision of the Board of Directors. A candidate room will be selected from the FWA room block, and from that room, a candidate from the registered room guests. In the case of a person listed on multiple rooms, they will only be considered eligible if the lowest number room is selected. In no case, will a person be eligible more than once.  After the candidate is selected from the room block, their name will be verified against the Furry Weekend Atlanta registration database before being declared a winner.  Winners will be notified via email within 5 days. The email used will be the email on file from the FWA registration system. If winner does not respond to the email, or otherwise can not be contacted via the email address provided within 30 days, the prize will be forfeited. Winners "fan names" will be publicized on our website and social media.
Odds of winning – Odds of winning depend on the total number of eligible entrants. One winner will be selected for each prize from the total number of eligible entrants.
Registration with the State of Georgia: Furry Weekend Atlanta Inc (also referred to as Furry Weekend or FWA), will be operating a licensed raffle during 2017 (conducted pursuant to O.C.G.A. §16-12-22.1), at the Furry Weekend Atlanta 2017 convention. The raffle will be conducted on the 9th of April, 2017. Furry Weekend Atlanta is a Domestic Nonprofit Corporation that is registered with the Georgia Secretary of State and holds a valid determination letter from the IRS as a nonprofit tax-exempt 501(3)(c) corporation.
Terms: Only one entry maximum per person. Any and all prize related expenses, including without limitation, any and all import duties, federal, state, and/or local taxes shall be the sole responsibility of the winner. Winners agree that their legal names will be recorded, but not published, and may be subject to legal inspection as required by law. No substitution of prize or transfer/assignment of prize to others or request for the cash equivalent by winners is permitted. FWA reserves the right, to cancel, terminate, modify or suspend the drawing should a virus, bugs, unauthorized human intervention, fraud or other causes beyond its control, corrupt or affect the administration, security, fairness or proper conduct of this drawing. Anyone who tampers or attempts to tamper with the entry process or the operation of this drawing or website or violates these Terms & Conditions will be disqualified. FWA reserves the right, to cancel, terminate, modify or suspend the drawing as required to comply with law. FWA has the right, for the purpose of maintaining the integrity of the drawing, to disqualify any person.