Poker & Blackjack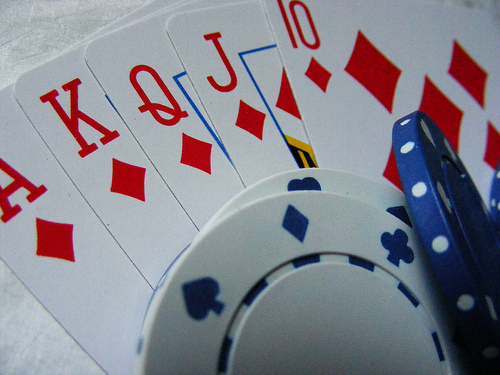 This year, FWA will be featuring three different types of poker tournaments in addition to Blackjack!
Beginner's Tournament
The first tournament held is the Beginner's Tournament. This tournament will have a little more coverage to help those of you who might be new to poker, but established players are welcome to come and warm up their game as well. The entry donation for this tournament is $5.00, given directly to Conservators' Center.
Texas Holdem Tournament
The second tournament we'll have is the Texas Holdem' Poker Tournament. This tournament will feature several satellites, a semi-final round, and then a final table. The entry donation for this tournament is $20.00, given directly to Conservators' Center.
Much like last year, the Grand Prize for the Main Tournament will be incredible. We're giving away one of two sets of customized ceramic FWA poker chips. The art on the chips will be designed by our Guest of Honor, Louvelex. If you saw the poker chips from last year, you know how amazing these are. Each denomination has unique art and the chips come in a wooden presentation box as well. You definitely don't want to miss out on your shot at winning these.
2014 Texas Holdem Tournament Information
Omaha Tournament
The third tournament will be an Omaha Poker Tournament. Don't know how to play Omaha? There will be a 30 minute tutorial session to get you warmed up! There will be a $10.00 entry donation, paid directly to Conservators' Center.
2014 Omaha Tournament Information
Black Jack Tournament
In addition to the Poker Tournament, this year we will also offer a Blackjack Tournament! There will be a $10.00 entry donation, paid directly to Conservators' Center.
2014 Black Jack Tournament Information