Dealers and Artists
Dealers Den
Dealer's Den registration opened July 26, and is now on wait-list status. Please go to myfwa.com and follow the Dealers Den button to sign up for the wait-list. If you have any questions about Dealers' Den, please contact dealersden@furryweekend.com.
Click here for the historical 2015 Dealers List and map!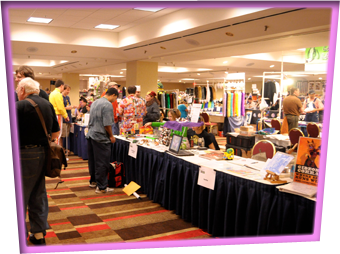 Hours
Our hours for 2015 were:
Friday: 10AM – 6PM
Saturday: 10AM – 6PM
Sunday: 10AM – 5PM
Table prices for 2016 are:
One (1) Dealer Table
One 8′ 3″ table in the Dealer's Den
$85
Two (2) Dealer Tables
Two 8′ 3″ tables in the Dealer's Den
$180
Three (3) Dealer's Tables
Three 8′ 3″ tables in the Dealer's Den
$290
Four (4) Dealer's Tables
Four 8′ 3″ tables in the Dealer's Den
Email dealersden@furryweekend.com.
Electricity $25 additional charge
Wifi Prices TBA
Table prices DO NOT INCLUDE MEMBERSHIPS. Please consider pre-registering for con memberships.
If you have any further questions or concerns, please feel free to email the Dealers Den staff at dealersden@furryweekend.com. The full Dealer's Den Policy may be found here: Dealer's Den Policy
Artists' Alley: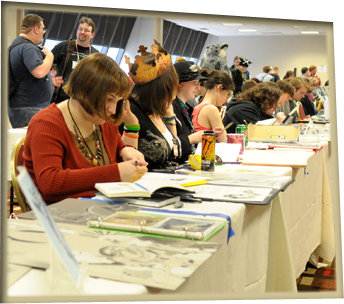 Artists' Alley hours for 2015 were:
Thursday: 3PM – 3AM
Friday: 10AM – 3AM
Saturday: 10AM – 3AM
Sunday: 10AM – 5PM
The artist alley is always a good place to find rising talents, established artist in the fandom and sometimes dealers working after hours. If you need a badge, sketch or just any other trinket for you or a friend that couldn't make it, stop by. Because the artists are always rotating in and out of the room, you'll never know what you'll find there!
For artists, there are, of course, a few rules that must be followed. Full rules can be found here Artist Alley Policies, but here are the highlights:
Space is at a first come, first served basis and can not be reserved. You must take your things and clean your space when you leave for an extended (more than 15 minute) time period.
Spaces designated for mobility seating priority should be reserved for those requiring space behind the table for mobility devices or assistant animals. An artist already occupying the space while the room is full will not be made to leave, however if a non-priority space is available they may be requested to move so that all FWA attendees may enjoy the space fully.
All works sold in the room must be of your own work or must feature you prominently in it (such as a comic book). No third party dealers are allowed in the Artist Alley.
You are obligated by Georgia state law to collect sales tax and turn it into the state after the weekend. Forms will be provided either in the Dealers' Den or at the FWA table in the Artist Alley, and is also available for download from the Georgia DOR website: Form FW-32. The tax rate is 8%.
Don't sell or show adult pieces to minors. All adult material must be in its own folder/portfolio/etc and must have the "naughty bits" censored (post-its work great!).
You are limited to a 1/2 table space of approximately 3×3 to work in.
Because space is tight in the room, please bring only what you need to sell or do your art.
Only artisans behind tables, please.
Electricity is NOT provided at the tables, even if you happen to be seated near a plug. A power strip will be provided at the staff table for you to use as needed. You may not leave items plugged in to charge; staff cannot be held responsible for items left at the power strip.
For those artists looking for a place to burn the midnight oil after the Artist Alley has closed, a soft seating area will be available to continue working. When using this space, please keep the area neat and restrict yourself to using only part of a table to allow others to relax. Signage or displays are not allowed in this area. The soft seating is only available for artists to use during non-artist alley hours; anyone attempting to sell in this area while Artists Alley is open will be asked to relocate inside.
If you have any further questions or concerns, please feel free to contact the Artists Alley staff as at artistalley@furryweekend.com.
Advertising
If you are interested in showcasing your product(s) at Furry Weekend Atlanta, please see our Advertising page for more information.