Art Gallery
Please check back for 2016 Art Gallery information.
The information from 2015 is still here until we update this page. The update is in progress so please forgive our delays as we work to improve Art Gallery for FWA Attendees and Artists.
Furry Weekend Atlanta is proud to be hosting another year of our art gallery, showing some of the finest works in the furry fandom. The gallery features a separate area for mature artwork that is restricted to minors. Artwork is sold by written bid, with pieces receiving five or more bids automatically going to voice auction. The auction will take place on the Sunday of the convention, with mature pieces being auctioned first, and general pieces going second after a brief intermission allowing the doors to be opened to all members instead of just adults.
For Artists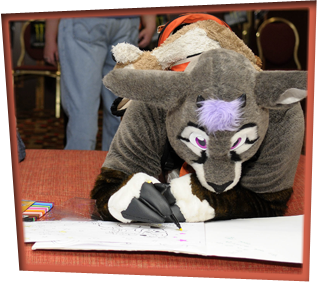 We have two separate areas, one for General Audiences and one for Mature Audiences. The deadline for submissions to the Furry Weekend Atlanta Art Show will be April 10th, 2015.
Furry Weekend Atlanta limits the number of art gallery slots available to mail-in artists. If you will not be attending Furry Weekend Atlanta but would like to mail in artwork, please contact Furry Weekend Atlanta FIRST, before registering. Approval for acceptance of mailed artwork must be requested 30 days before the start of the con. Any pieces being mailed to us must be received 10 days before the con. All mail-in artwork must include a prepaid return shipping label for unsold artwork via either United States Postal Service (USPS) or United Parcel Service (UPS). This must include any insurance you wish to purchase for the return shipment of any unsold artwork. Failure to include a prepaid return shipping label will incur a $20.00 service charge in addition to the cost of return shipping. Furry Weekend Atlanta will not be responsible for lost or damaged shipments of return artwork. This is for your protection – it insures that your artwork is cared for in the way you choose.
Panel costs are as follows:
| | | |
| --- | --- | --- |
| Half Panel (4′ x 2′), General Section | | $5.00 |
| Full Panel (4′ x 4′), General Section | | $10.00 |
| 3D Panel (4′ sq), General Section | | $15.00 |
| Half Panel (4′ x 2′), Mature Section | | $5.00 |
| Full Panel (4′ x 4′), Mature Section | | $10.00 |
| 3D Panel (4′ sq), Mature Section | | $15.00 |
Furry Weekend Atlanta will take a 10% commission from the sale of your piece as its fee for acting as sales agent. The artist will also have the option of retaining profits from the sale, donating the profits to charity, or donating the profits to Furry Weekend Atlanta (a 501(c)3 organization).
Payments are issued within 90 days of the end of the convention. We try to do it sooner, but processing holdups can sometimes delay that.
What is Accepted in Art Gallery
Effective 2016, Art Gallery pieces will be restricted to originals (including 3D works/crafts) and limited run prints which must be numbered and matted or framed. If you have any questions about whether a piece meets our criteria, please contact artshow@furryweekend.com
For Bidders
Bidding has returned to on-site, paper bidding only. You may not scratch through a bid to retract it, so please keep bids to serious bids only. Your bidding ID will be your badge number.
Pickup
You can pick up any pieces you have won on Sunday following the auction. Note, bidding on a piece of art is a binding agreement and failure to pay/pick up art at the convention will result in an additional charge as well as a mailing fee.