Art Show
Please check back for 2016 Art Show information.
The information from 2015 is still here until we update this page
Furry Weekend Atlanta is proud to be hosting another year of our art show, showing some of the finest works in the furry fandom. The show features a separate area for mature artwork that is restricted to minors. Artwork is sold by written bid, with pieces receiving five or more bids automatically going to voice auction. The auction will take place on the Sunday of the convention, with mature pieces being auctioned first, and general pieces going second after a brief intermission allowing the doors to be opened to all members instead of just adults.
For Artists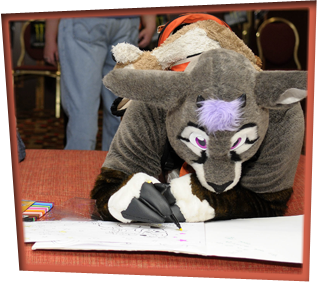 We have two separate areas, one for General Audiences and one for Mature Audiences. The deadline for submissions to the Furry Weekend Atlanta Art Show will be April 10th, 2015.
Furry Weekend Atlanta limits the number of art show slots available to mail-in artists. If you will not be attending Furry Weekend Atlanta but would like to mail in artwork, please contact Furry Weekend Atlanta FIRST, before registering. Approval for acceptance of mailed artwork must be requested 30 days before the start of the con. Any pieces being mailed to us must be received 10 days before the con. All mail-in artwork must include a prepaid return shipping label for unsold artwork via either United States Postal Service (USPS) or United Parcel Service (UPS). This must include any insurance you wish to purchase for the return shipment of any unsold artwork. Failure to include a prepaid return shipping label will incur a $20.00 service charge in addition to the cost of return shipping. Furry Weekend Atlanta will not be responsible for lost or damaged shipments of return artwork. This is for your protection – it insures that your artwork is cared for in the way you choose.
Panel costs are as follows:
| | | |
| --- | --- | --- |
| Half Panel (4′ x 2′), General Section | | $5.00 |
| Full Panel (4′ x 4′), General Section | | $10.00 |
| 3D Panel (4′ sq), General Section | | $15.00 |
| Half Panel (4′ x 2′), Mature Section | | $5.00 |
| Full Panel (4′ x 4′), Mature Section | | $10.00 |
| 3D Panel (4′ sq), Mature Section | | $15.00 |
Furry Weekend Atlanta will take a 10% commission from the sale of your piece as its fee for acting as sales agent. The artist will also have the option of retaining profits from the sale, donating the profits to charity, or donating the profits to Furry Weekend Atlanta (a 501(c)3 organization).
Payments are issued within 90 days of the end of the convention. We try to do it sooner, but processing holdups can sometimes delay that.
For Bidders
Bidding on artwork at Furry Weekend Atlanta has changed!
We've partnered with Handbid to provide an online art show!

If you don't have an account, you can create one using the Handbid website or app.
Create a new account in the app. You will be asked to provide your legal first & last name, your email address, and a phone number you can be text messaged at. If you are at the event and cannot register for Handbid yourself, please talk to art show staff.
Once you have an account you will need to enter your credit card information to bid in the auction. You can do this in the profile section. If you are at the event and do not wish to pay with your credit card, please talk to art show staff.
Note: Since we cannot upload adult images to Handbid, links to the images will be included on the artwork description. Only event attendees over the age of 18 will be able to see these pieces in the art show room at the event.
Once you have an account

Find the FWA 2015 Art Show Auction in the list of auctions on the site or in the app. You will see our con logo.
You can bid using the app on your phone or by using a computer to go to the website
If you are at the event, you can also bid using the kiosks in the art show at the event
When the art show ends

You can pay for the artwork you won by using the app on your phone, by going to the website, or by paying cash or card in person at the art show if you are at the event
Once you have paid, if you are at the event you can take your artwork home with you. If you are remote, your artwork will be shipped to you. Extra shipping charges will apply.
FAQ
Do I need to be at the event to participate in art show?
Nope! We partnered with Handbid to change the art show experience. Event attendees have the benefit of being able to see the artwork in person, but anyone around the world can participate in the art show over the internet.
Why do I need to give Handbid my phone number?
Handbid communicates with you about the items you've bid on via push notifications on the app. If that fails, it falls back to your phone number.
Why do I need to give Handbid my credit card number?
Handbid takes care of the payment processing and receipt generation for artwork
What if I don't have a credit card?
If you are not at the event, you can purchase a credit card gift card and use that instead. If you are at the event, you can check out with an art show staff member and pay cash.
Why is there no adult artwork on the Handbid auction gallery?
Handbid does not currently have support for age-restricted items. At the physical art show event, adult artwork is behind a barrier and attendees' IDs are checked by staff before they are allowed to enter. Because of this limitation, a generic image explaining this will be used for these art pieces on the online auction gallery. In each image description however, there will be a notice that the artwork is adult in nature and will have a link to the image hosted on a separate website.
You can pick up any pieces you have won on Sunday following the auction. Note, bidding on a piece of art is a binding agreement and failure to pay/pick up art at the convention will result in an additional charge as well as a mailing fee.